Rotator Cuff / Impingement >> Symptoms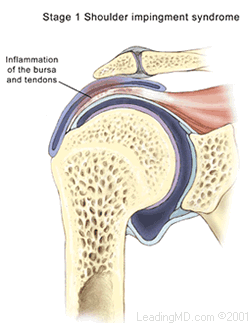 What are the signs and symptoms of impingement syndrome?

Most often the onset of symptoms is related to an episode of overuse. In many patients, the episode occurred some time in the past and the shoulder has failed to return to normal.

Impingement symptoms are marked by pain:
The pain is sharp and intermittent in its early stages.

As impingement progresses, the pain becomes more of a constant ache.

Although pain is usually present after impingement sets in, the original event that led to the problem is often relatively minor and not remembered as painful.

Once inflammation starts, simple movements may become painful.
Overhead motions tend to increase the pain. There is less space for the bursa when the arm in this position, causing more compression on the bursa.

Arm movements at waist level are not painful. In this position, there is more space for the bursa, and therefore it is less compressed.

Pain usually increases at night for two reasons. First, inflammation and swelling tend to get worse as the shoulder is used during the day, and this can lead to more pain in the evening. Second, the mind is usually less occupied in the evening, allowing pain to become a major focus of attention.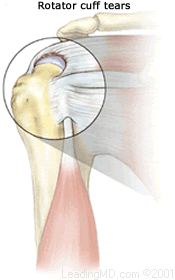 What are the signs and symptoms of a rotator cuff tear?

The symptoms of a rotator cuff tear are very similar to those of impingement syndrome with the added complaint of weakness. This weakness will vary depending on which rotator cuff tendon has been torn. For example, if the supraspinatus muscle is involved (as is most often the case) weakness will be present with forward arm elevation and overhead activity. Many patients are at first unaware of how much strength they have lost when they tear the rotator cuff.